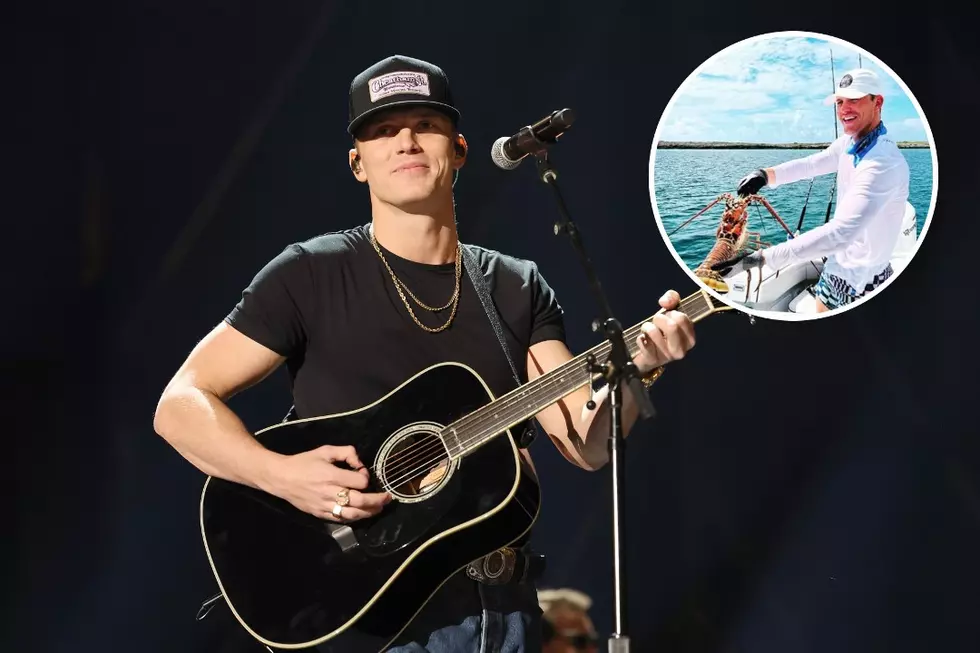 Parker McCollum May Trade in Hunting for Spearfishing After This Big Catch [Picture]
Instagram / Rich Fury, Getty Images
Country music and the great outdoors tend to go hand in hand, with many artists enjoying hunting or fishing as hobbies. Parker McCollum is no exception — he loves bow hunting — but he may have just discovered his true passion after a spearfishing excursion.
"I may love spear fishing more than bow hunting now," he admits, sharing a photo of himself beaming and holding a very large lobster, which he presumably caught spearfishing.
A few other country artists jumped into the comments to share their excitement.
"Yeah boiiiiii. Welcome to that salt life," Jake Owen writes.
Kolby Cooper adds, "Duddeee that wicked."
Koe Wetzel may have said it best, however, remarking: "Lobstaaa meat."
In the past, the Texas native McCollum has shared photos from his other outdoor adventures, like trout fishing, duck hunting and what he dubbed "the hunt of a lifetime," when he shot a mountain lion.
It's been an eventful year for the "Pretty Heart" singer, beginning with his first ACM Awards win for New Male Artist of the Year in March. Shortly after, he snagged a trophy for Breakthrough Video of the Year for "To Be Loved by You" at the CMT Music Awards. He has also been on the road for a summer tour, which wrapped on Aug. 27.
On a personal level, McCollum married Hallie Ray Light on March 28. The pair got engaged in July of 2021, and the country singer has been open about Light's impact on him, noting that she might have "saved my life in a way."
He shared with People that after struggling with substance abuse, she has given him a reason to live a sober, healthy life.
PICS: See Inside the Historic Texas Ranch Where the New 'Yellowstone: 6666' Spinoff Is Filmed
The massive, historic Texas ranch where the new Yellowstone spinoff Yellowstone: 6666 is filming has sold for just under $200 million, and pictures show a property that is truly part of Texas history.
The 6666 Ranch — better-known as the Four Sixes Ranch — in Guthrie, Texas, dates back to 1870. The ranch centers around a 13-bedroom, 13-bathroom, 13,280-square-foot main residence, which is constructed of quarry rock that was hauled to Guthrie by wagon. The ranch also includes vast, sweeping fenced pastures, farmland, fenced-in pens for cattle, a more recent addition for horses, a water filtration plant that serves the ranch's water needs and more.
There are separate camp manager's homes in both the North Camp and the South Camp of the ranch, which encompasses nearly 225 square miles of land. Yellowstone creator Taylor Sheridan is part of a group of investors who recently acquired the property for $192 million, and he has been shooting his new show out there in recent months.