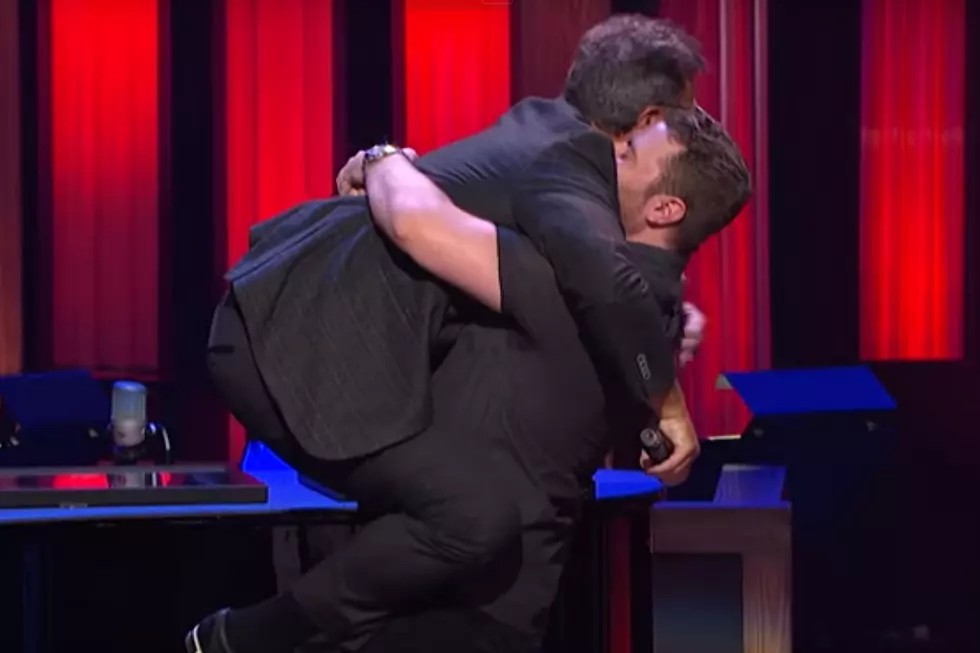 Chris Young Invited to Join the Grand Ole Opry [WATCH]
YouTube
Tuesday night (Aug. 29) was a big night for Chris Young. After celebrating both the success of his recent No. 1 hit "Sober Saturday Night" with his duet partner on the song, Vince Gill, and his first platinum album, 2011's Neon, Young received the biggest surprise of all: an invitation to join the Grand Ole Opry!
Closing out Tuesday night's Opry performance, Young sang his first chart-topping single, "Gettin' You Home (The Black Dress Song)," "I'm Comin' Over" and "Lonely Eyes." Then, Gill joined him onstage to help Young show off his gold- and platinum-certified records, and to deliver the big news.
"Here's my only bone of contention I have with you ... I loved playing on ["Sober Saturday Night"], and it was fun singing and all that stuff ... [but] I never got paid for that session," Gill joked with Young. "I'm still five years away from Social Security."
"I'll tell you what -- I'll make you a deal," Gill continued. "I'll forgive the session fees if you'll be the newest member of the Grand Ole Opry."
With those words, Young gave Gill a bear hug and, of course, accepted the honor. Readers can watch the special moment in the video above.
"I don't cry at anything," an emotional Young shared from stage, before singing "Sober Saturday Night." "The worst part is, this song is really hard to sing, and everybody on the radio now is like, 'Shut up and sing a song.' You got me really good. I love you guys. I love everybody here. I love this place."
See Chris Young + More Country Stars Then and Now
Gill, who became a Grand Ole Opry member in 1991, also offered Young some wise words about being part of the revered organization.
"As a friend and as someone who's been out here for 30 years, you will not believe the friendships and relationships and the heart that you will gain being out here for the rest of your life," shared Gill. "It's going to really be powerful, so congratulations. I encourage you to come here, often. When you're career is on fire like it is, the Opry could use you. It's important that you come and support this."
His Opry invitation was all the more meaningful to Young because of the influence that Gill has had in his life. It started when Young was just a little boy, when his mother took him to hear Gill perform in concert.
"I've got so many things to look up to in Vince Gill," Young shared at a party in his honor prior to his Opry performance. "Being able to have him on ["Sober Saturday Night"], and being able to say that someone I looked up to a lot, that I placed on the highest pedestal that you could put someone on ... [He's] a wonderful humanitarian, musician, producer, everything, top to bottom. And sings a lot higher than me."
Young will be officially inducted into the Grand Ole Opry on Oct. 17.
The Grand Ole Opry Through the Years
How Well Do You REALLY Know Chris Young?