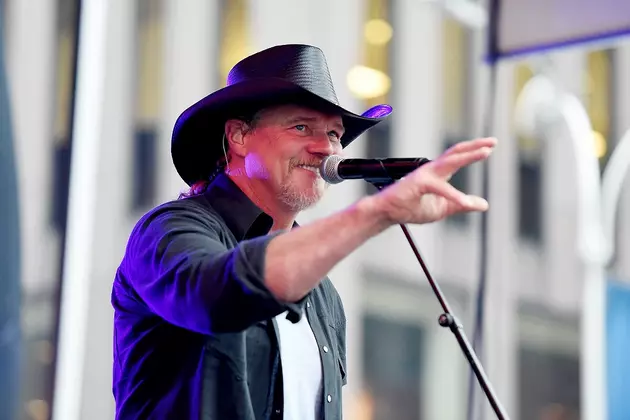 Trace Adkins Talks Music and Movies: 'I've Had a Great Run'
Nichols Hunt, Getty Images
"I've had to ask for forgiveness a bunch of times in my life, and I'll probably have to do it again," Adkins shared with The Boot and other reporters at a recent media event. "I've been very fortunate to have been able to work with some of the finest people in the business in this town -- some of the best producers, record label presidents and publicists, and on down the line -- managers.
"I've had a great, great ride, and people ask me, 'What have you got left to do?' I really don't have anything on my bucket list," Adkins adds. "If this thing ended today, I'd be content. I've had a great run."
Adkins, who won Celebrity Apprentice in 2013, has played similar characters in many of his films. But, when he starred in Traded last year, alongside veteran actors Tom Sizemore and Kris Kristofferson, the role was a first for Adkins.
"[It was] the first time I've played a character that pretty much has no redeeming qualities," Adkins says. "I had a blast. He's a bad guy: He owns a brothel and kills people."
Given that Adkins stretched his acting abilities with Traded, it's logical to wonder if he would ever consider another first: playing a romantic lead.
"Nobody's asked me to do it," he shares. "All they ask me to do are bikers and cowboys. That's all I ever get asked to play. Except on this [upcoming] I Can Only Imagine movie, where I play the manager -- which again, is not a huge stretch. Nobody asks me to do anything else."
Although Adkins enjoys being in front of the cameras, he insists there's something about being a singer that will always be his first love.
"[I love] somebody applauding," admits Adkins. "I love going in the studio, especially with the incredibly talented musicians -- but then, you go in and do the master vocal, and there's a producer sitting in there, and you sing it to the best of your ability, and he just pushes a button and goes, 'That was pretty good. Let's do it again.' He doesn't clap."
Country Artists Who Have Acted in TV Shows and Movies
Unforgettable Trace Adkins Moments