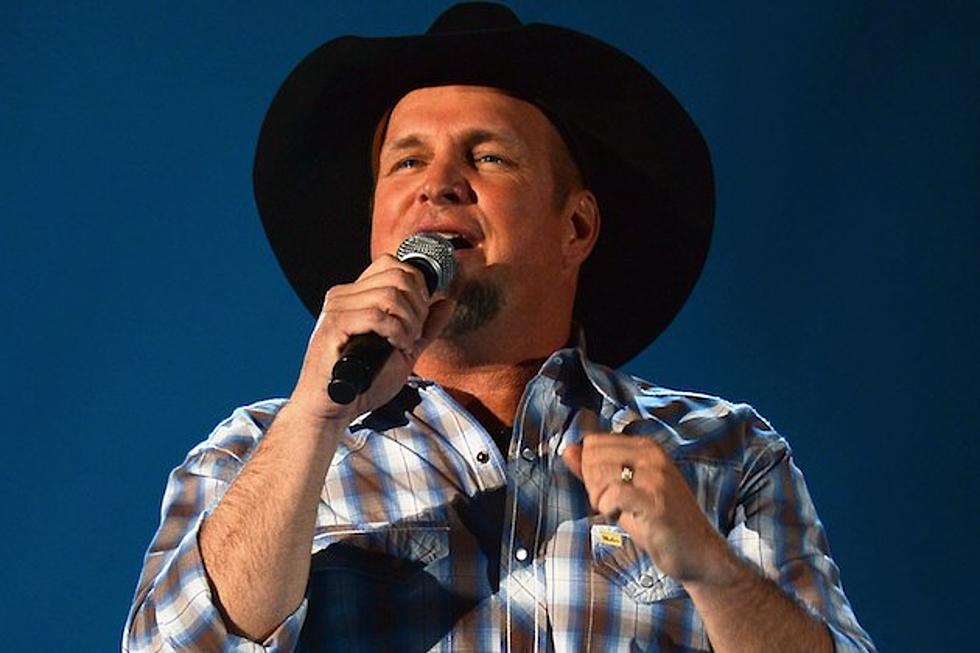 Top 10 Garth Brooks Songs
Ethan Miller, Getty Images
Garth Brooks' songs are some of the most important of the last several decades of country music. At his peak, Brooks helped to single-handedly bring country music to a listening audience outside the genre's normal constraints.
Brooks' signature vocal style delivers equally well in a variety of styles, from fun, uptempo songs to more serious, weightier fare. Brooks is not only a talented writer himself, he also has a penchant for discovering some of the strongest material in Nashville and making it his own with his powerful performances.
Our list of the Top 10 Garth Brooks Songs culls the best of all of his material across his entire chart-breaking career:
10

"Ain't Goin' Down ('Til the Sun Comes Up)"

From: 'In Pieces' (1993)

Brooks shows his more playful side with this uptempo hit, the deliberately provocative lyrics of which are riddled with sexual innuendo. The song features an impressive vocal performance, in which Brooks delivers the lyrics in a rapid-fire manner that partially obscures many of the more suggestive lines. Many Brooks-inspired American Idol hopefuls have attempted to tackle this tongue-tying tune, but his commanding vocal charisma can't be matched. The spitfire song was released in 1993, and reached No. 1 after an impressive six-week race to the top.

9

"Much Too Young (to Feel This Damn Old)"

From: 'Garth Brooks' (1989)

Brooks made his debut with "Much Too Young (to Feel This Damn Old)" in 1989 on Capitol Records. The song tells the story of a broken-down rodeo rider whose vagabond lifestyle costs him his life at home when his long-suffering love finally leaves -- but the lyrics could just as easily be about a traveling musician. Brooks name-checks one of his own favorites, rodeo musician Chris LeDoux, in the song, which he co-wrote with Randy Taylor.

8

"Papa Loved Mama"

From: 'Ropin' the Wind' (1991)

Lies, adultery and murder provide the ammunition behind the narrative storyline of this 1992 toe-tapper about a truck driving daddy and a mama who has needs. "Papa was a good'n / But the jealous kind / Papa loved Mama / Mama loved men / Mama's in the graveyard / Papa's in the pen." Co-written by Brooks and Kim Williams, the surprisingly fun song -- given the subject matter -- reached No. 3 in Billboard's Hot Country Songs chart.

7

"The River"

From: 'Ropin' the Wind' (1992)

Brooks has always looked for inspirational songs to record, and "The River" may be first among them. Co-written by Brooks and Victoria Shaw, the song's gentle, breezy opening gives way to a powerful chorus, with a lyric that encourages everyday people to experience all they can from life: "Don't you sit upon the shoreline and say you're satisfied / Choose to chance the rapids, and dare to dance the tide." Released as the fifth and final single from Ropin' the Wind, the song became Brooks' ninth No. 1 hit.

6

"Unanswered Prayers"

From: 'No Fences' (1990)

Brooks was the hottest star in country music by the time he released "Unanswered Prayers." Written by Brooks with Pat Alger and Larry Bastian, the song tells the story of a man who runs into his old flame at a high school game, and realizes that though he used to pray fervently that they would be together one day, his life has turned out better by being with his wife. The song's hook, "Some of God's greatest gifts are unanswered prayers," would go on to inspire a TV movie. Brooks has said the song was based on a real-life encounter with his high school sweetheart.

5

"The Thunder Rolls"

From: 'No Fences' (1990)

Controversy surrounded the release of this song, when TV outlets pulled the accompanying music video because of its theme of domestic violence. Despite the setback, the clip won the CMA Awards Video of the Year in 1991 and gave Brooks his fifth straight No. 1 single. Tanya Tucker originally recorded the song, which Brooks wrote with Pat Alger; it includes a third verse that has the woman in the song going upstairs to get a gun to shoot her husband, which was omitted from Brooks' recorded version.

4

"More Than a Memory"

From: 'Ultimate Hits' (2007)

Brooks made chart history in 2007 when this song debuted at No. 1 on Billboard's Top Country Singles chart. It marked his first single release after a period of semi-retirement. More than a comeback, "Memory" marked the first time that Brooks had reached the pole position since 1998's "To Make You Feel My Love," and proved that his powerful pipes didn't suffer any retirement rust. It was written by Lee Brice, Billy Montana and Kyle Jacobs.

3

"If Tomorrow Never Comes"

From: 'Garth Brooks' (1989)

"If Tomorrow Never Comes" is one of several of Brooks' songs to touch on the subject of death, which is normally not radio fare. Written by Brooks and Kent Blazy, the song talks about a man who lies awake at night wondering, if he died in his sleep, if his wife would truly understand how much he had loved her: "Is the love I gave her in the past / Gonna be enough to last / If tomorrow never comes?" Released as Brooks' second single, it became his first No. 1 hit, and is one of his signature songs.

2

"Friends in Low Places"

From: 'No Fences' (1990)

"Friends in Low Places" was the first single from No Fences, which would go on to be one of Brooks' biggest albums. Written by DeWayne Blackwell and Earl Bud Lee, the song was reportedly inspired when Lee forgot his wallet at a Nashville eatery, then quipped, "Don't worry, I have friends in low places. I know the cook." The song spent four weeks at No. 1. A night of karaoke is never complete without a rendition of this classic, which won Single of the Year honors at both the CMA Awards and ACM Awards that year.

1

"The Dance"

From: 'Garth Brooks' (1989)

Rarely has a song touched the lives of as many people as Garth's timeless tune, "The Dance." The song contains some of the most poetically beautiful lyrics, and the music video, which contains archived footage of Martin Luther King Jr., John F. Kennedy and other social activists, acted as a political platform to unite people, despite gender, color and religion. Written by Tony Arata, the song was a breakout hit and has since become iconic. It more than deserves to top this list of the Top 10 Garth Brooks Songs.