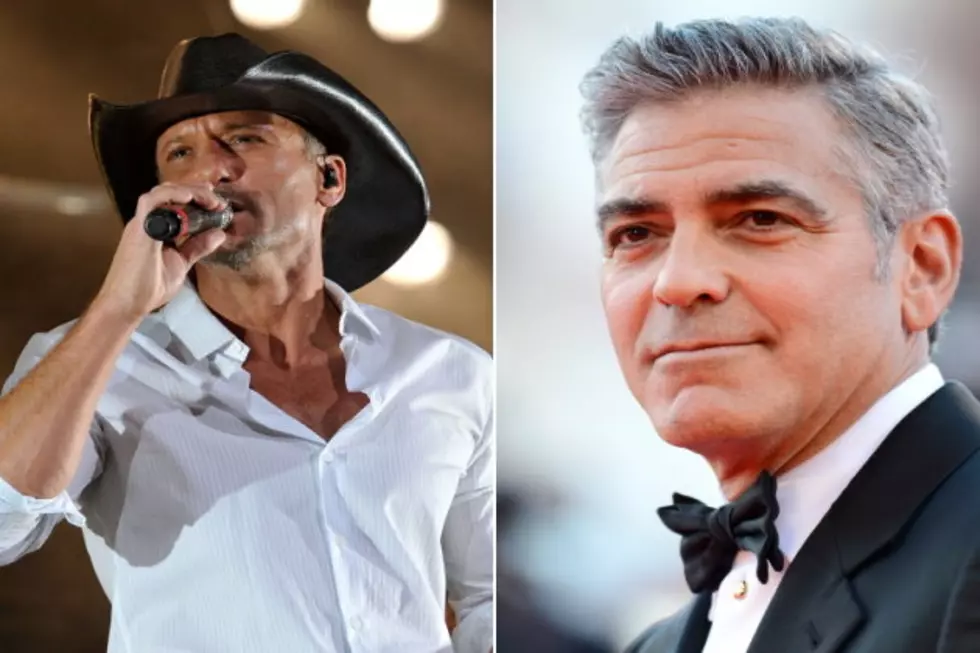 Tim McGraw Joins George Clooney for New Disney Movie 'Tomorrowland'
Fredrick Breedon IV/Getty Images and Ian Gavan/ Getty Images
Tim McGraw is getting ready to film a new movie with George Clooney. The movie is a Disney sci-fi film called 'Tomorrowland'. The film is set for a late 2014 release.
With Damon Lindelof (who co-created LOST) and Brad Bird having written the script and directing the film it is sure to have a lot of twists and though provoking scenes. Not much is really known about the movie other than what was officially released from the studio.
The official storyline is this:
Bound by a shared destiny, a bright, optimistic teen bursting with scientific curiosity and a former boy-genius inventor jaded by disillusionment embark on a danger-filled mission to unearth the secrets of an enigmatic place somewhere in time and space that exists in their collective memory as "Tomorrowland."
Supposedly Robertson will be playing the teen role in the movie with Clooney as the former boy-genius inventor and Laurie as the villain. However, McGraw's role in the movie is still unclear. We will keep you updated on the progress of this movie and McGraw's role in it as filming progresses.
Look for the movie to be released in December of 2014.