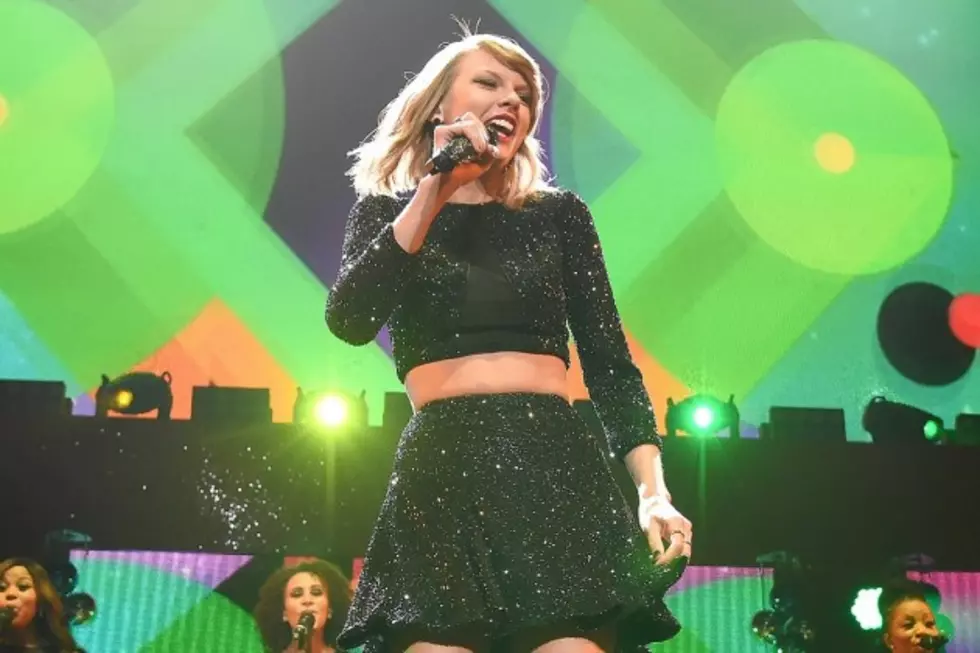 32 Years Ago: Taylor Swift Is Born in Reading, Pa.
Jason Merritt, Getty Images
Happy birthday, Taylor Swift! The singer was born on Dec. 13, 1989, in Reading, Pa., to Scott, a financial adviser, and Andrea, a former mutual fund marketing executive.
Swift grew up on a Christmas tree farm in Wyomissing, Pa., with her parents and younger brother Austin, spending summers at her family's home in Stone Harbor, N.J. She showed an early interest in singing and acting, but her first love was riding horses, a skill that Swift began before she could even walk. Still, it didn't take long for the young girl, or her parents, to realize her musical abilities.
By the time she was a pre-teen, Swift was singing at sporting events and in clubs, coffeehouses and other venues, ultimately winning a chance to open for Charlie Daniels at a local show. But the now-superstar makes it clear that all her hard work was entirely her decision, even though her parents were supportive.
"Every single weekend, I would go to festivals and fairs and karaoke contests -- any place I could get up on stage," Swift recalls to CMT. "The cool thing about this is that my parents have never pushed me ... If I had been pushed, if I didn't love this, I would probably not have been able to get this far."
Swift and her family relocated to Nashville when she was just 14 years old so that she could pursue a country music career, again without any pressure from her family.
"I thought it would be the best place for me to break into the music industry, but my parents took all the pressure off by saying, 'We're just moving because we love the area, so don't worry,'" Swift tells the Daily Mail. "They knew nothing about the industry and had no involvement in entertainment, but I was obsessed with it, and so they did their research and read up about it to help me in every way they could. They're amazing people."
Swift first landed a short-lived deal with RCA Records; she co-wrote with some hit writers but felt stifled by the label's insistence that she record other people's songs instead of her own. Furthermore, they wanted to hold off releasing any music for a few more years -- a condition that was thoroughly unacceptable to the precocious teen.
"I genuinely felt that I was running out of time. I'd written all these songs, and I wanted to capture these years of my life on an album while they still represented what I was going through," Swift explains to the Telegraph. "I felt there was no reason why country music shouldn't relate to someone my age if someone my age was writing it."
Fortunately, it didn't take long for the budding superstar to capture the attention of another record label executive, Scott Borchetta, who was just launching his own Big Machine Label Group. After hearing her perform, he invited Swift to be one of the first on the label's roster.
LOOK: Taylor Swift's Best Live Shots
Swift's debut single, "Tim McGraw," was released on June 19, 2006, when she was only 16 years old; the song was from her eponymous freshman album, which was released the following September. Although the tune barely cracked the Top 40, Swift's following single, "Teardrops on My Guitar," landed in the Top 20, and the record earned a spot in the Top 5. As three more singles from the record, "Our Song," Picture to Burn" and "Should've Said No," climbed the charts, Swift's superstar status was beginning to emerge.
By the time her sophomore album was released, Swift had become one of the biggest -- and most successful -- artists in music, across all genres. Fearless, which debuted in November of 2008, when Swift was 18 years old, spent an astonishing 11 weeks at the top of the charts. Two months later, in January, tickets went on sale for her Fearless Tour, which would mark Swift's first time as a headliner; tickets for her concert at New York City's Madison Square Garden sold out in one minute, while tickets for the show at the Staples Center in Los Angeles, Calif., sold out in two minutes.
Swift released two more albums in country music, Speak Now and Red, which each sold at least 5 million copies, landed at No. 1 on the charts and spawned numerous Top 10 singles. The blond beauty also appeared on Saturday Night Live, making history as the first star to ever write her own opening monologue.
Swift released her first pop album, 1989, in November of 2014. The debut single, "Shake It Off," landed at the top of the charts, helping the disc debut at No. 1; the record sold more than one million copies the week it was released, becoming the best-selling album of the year.
Swift's second pop album, Reputation, dropped in 2017, followed by her third one (and first on a new record label, after she chose not to re-sign with BMLG), Lover, in 2019. In 2020, she surprised fans with two albums, Evermore and Folklore, which were created during the early days of isolation during the COVID-19 pandemic.
Earlier this year, she released Fearless (Taylor's Version) and Red (Taylor's Version), which were re-recordings of her earlier albums she opted to create after her former manager, Scooter Braun, bought BMLG and all of its masters. Swift has said publicly that she had been trying to buy the masters from her label for years, but Braun instead sold the masters to an investment fund for $300 million just 17 months after acquiring BMLG and all of its assets. Red (Taylor's Version) debuted at No. 1 and broke multiple records, becoming one of the biggest albums of 2021.
Both of the projects continued her superstar trajectory, but for all her success -- numerous Grammys, countless other awards and more than 30 million albums sold and 80 million digital downloads to her name -- Swift seems most proud of how she remains one of the most endearing and scandal-free artists of her generation.
"I would think about how lucky I would be if people cared about the words I wrote," Swift tells The Boot about her aspirations as a young girl. "I would think about how lucky I would be if, one day, I was walking through a mall and saw a little girl with my face on her T-shirt. I would think that if, one day, anyone lined up to ask me to sign something of theirs, that would be a good day."
Taylor Swift and More Country Debut Albums That Changed the Game: