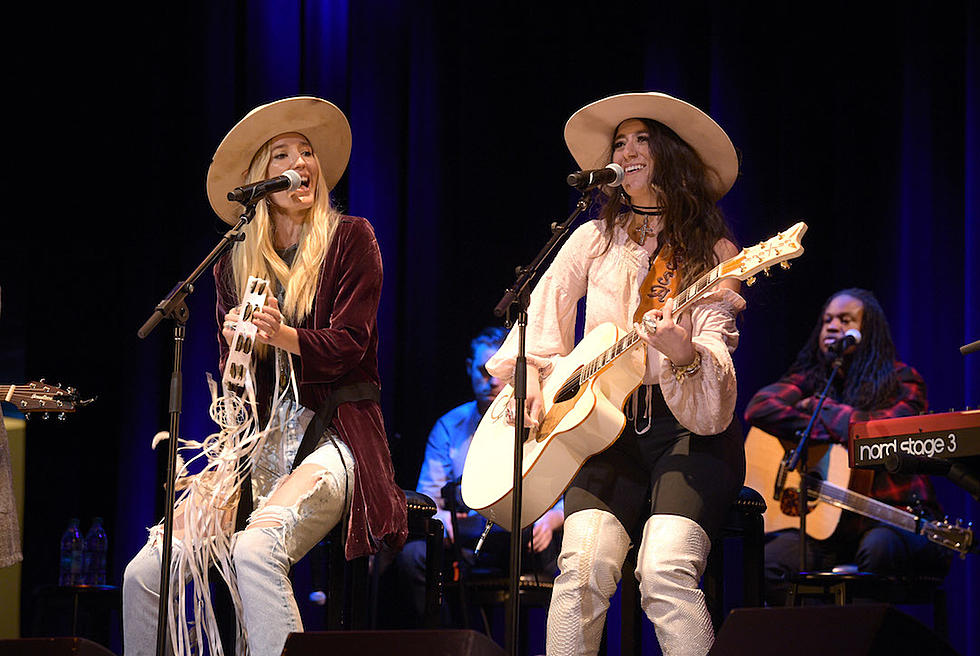 Interview: How The Sisterhood Learned to Build Their Music From the Ground Up
Jason Kempin, Getty Images
Some people start a band in order to rebel against their parents, but Alyssa Bonagura and Ruby Stewart formed the Sisterhood at their famous families' suggestion. The daughters of Kathie Baillie and Michael Bonagura, of Baillie and the Boys, and rocker Rod Stewart, respectively, Bonagura and Stewart took their parents' advice on how to start working and touring together.
"Ruby's dad, Rod, heard us sing together, and he gave us our first tour," Bonagura recalls. "He invited us to come open for him, and he said, 'You know, I want you guys to tour acoustically, just the two of you. You're not gonna bring the band; it's just gonna be you guys, and you're gonna figure out if you like doing it together, you know?'"
In addition to discovering whether they liked performing as a duo, the rock icon's advice allowed the Sisterhood to streamline their sets and let their songs speak for themselves. "He also suggested us trying to do a little loop station, like Ed Sheeran," Bonagura continues. "Because Ed goes out with a little loop pedal and plays arenas and stadiums, and it's just him, but it's so captivating.
"That really speaks about the song," she adds. "You can't hide behind anything when it's just the two of you singing a song."
That stripped-down approach formed the basis of the duo's Summer Setlist EP, which the Sisterhood put out in June. The project's tracklist contains the songs that seemed to make the biggest impact on audiences, and the duo recorded them as simply and sparsely as they had performed them live.
"It was just Alyssa and I in her studio -- in her dad's studio, that's also her studio," Stewart remembers. "She grew up behind that console and in that studio. That's us as stripped down as we started, as a sisterhood."
Adds Bonagura, "It was really fun for us to let that be the first thing that people hear from us, because we're really authentic to everything we say and what we play and do onstage. There are no gimmicks; there are no bells and whistles. It's just the Sisterhood, and so we're proud of that."
Touring and performing in such a simple, organic setting proved to the duo that they truly did like working together; moreover, it served as a crash course for their musical style, both separately and as a unit. It served them well during the process of creating their next project, a debut full-length album that Stewart and Bonagura co-produced using their compatible skill sets.
"We let each other be good at what the other's good at, and we help steer the direction," continues Bonagura. "Like, I could be working on something, and Ruby would come in and say, 'Hey, why don't you change this drum pattern? Because it would open this up,' and I'm like, 'Wow, I didn't even think of that.'"
Stewart chimes in, "She makes me better at certain things. She's awesome on Pro Tools. I wanna get better on Pro Tools, and it's probably gonna take me years, but she always takes time to explain things, even the simplest things, when she's producing."
The duo has already recorded the bulk of a full-length record, with plans to head back into the studio and complete the project before the end of 2018. "I think that we constantly are not challenging each other, but making each other greater," Bonagura says. "Because we love what we do and we really wanna be great at it, so we push each other to be great. I'm really grateful to have that in my life."
What began as a simple, distilled version of the duo's work together on their Summer Setlist EP has slowly built up into a fuller, more produced sound, each of the Sisterhood's two members contributing an equal and unique viewpoint to the project. While some musicians in their position might feel intimidated by their families' musical legacies, it was their parents' experience that helped guide them toward building their band that way.
"We always get asked that question: 'Does it feel like you're in your parents' shadows?'" says Bonagura. "We're actually in their light. It's pretty cool."
Plus, she continues, their musical history has taught them, from both a fan perspective and an artist perspective, how powerful songs can be.
"Music's always been there for us," she adds. "We wanna make music that can be there for other people."