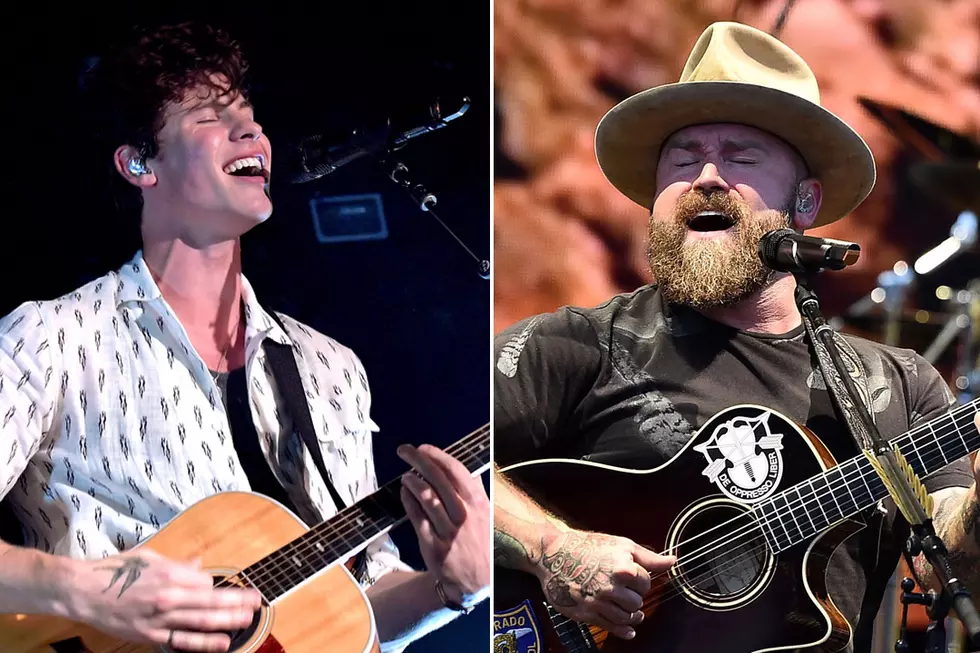 5 Important Notes From Shawn Mendes and Zac Brown's 'CMT Crossroads' Taping
Neilson Barnard / Theo Wargo, Getty Images
Shawn Mendes and Zac Brown Band are joining forces for an upcoming episode of CMT Crossroads that's worth tuning in for. The artists married pop and country at the Factory in Franklin, Tenn. on Tuesday night (Sept. 11), taping in front of a capacity crowd.
Taste of Country was in the house and we want to share five things we took away:
1. Shawn Mendes could be a country artist.
As country music splinters into subgenres, it's created opportunities for artists to cross over into what once was an unthinkable realm. Would you think 15 years ago that Aaron Lewis, Steven Tyler and Kid Rock would all have country albums by now?
With the evolution of country music, an artist as versatile as Mendes could walk into one of these new country niches, especially after the synergy he showed with Zac Brown Band. Mendes' songs sounded great with a live band, as good as — if not better than — the record. The young star (Mendes is 20) was clearly comfortable performing with multiple musicians onstage. From a songwriting perspective, his biggest hits ("Mercy," "Stitches," etc.) aren't far off lyrically from today's top country hits, so he could fit in with a few production tweaks (cowboy boots wouldn't hurt, either).
Granted, Mendes might sound a little silly singing country-themed songs like "Chicken Fried" (which they did not perform), but when simply sticking to emotions, he blends right in.
2. Zac Brown could be a pop artist.
Zac Brown has already tested cross-genre waters with ZBB's Jekyll + Hyde and his Sir Roosevelt project, so unsurprisingly, his pop sensibilities came out while onstage with Mendes for Crossroads. Like Mendes, Brown's voice is versatile enough to transcend the genre to which he's been appointed. At many points during the taping of the concert, the twosome's voices seemed eerily interchangeable within the selected songs, and at times, they even appeared to match each other's inflections as they sang. Brown might still look a little country, but his voice could fit anywhere in pop.
3. Shawn Mendes and Zac Brown should totally do a record together.
The basis of CMT Crossroads is to pair musicians together from different genres and have them perform duets, as well as hybrid versions of their songs. It's supposed to be a little uncomfortable (and some hybrids are easier than others), but the synergy between Mendes and ZBB was special.
Mendes mentioned that the band offered to add a "little thing" to his hit "Mercy," which turned into an elaborate instrumental section. The Canadian singer laughed and said it was the "most impressive thing he's ever heard in his life." But beyond the instrumentals, Mendes' and Brown's voices bounce back and forth like a perfect male duo, similar enough to create harmony and different enough to create character. If these two artists paired together to write and create songs with both of them in mind, it could be epic.
4. Both acts sound incredible live.
No studio magic needed when these two are onstage. Brown's band has so many members it's like a mini orchestra. It's not uncommon to hear four acoustic guitars onstage at once, paired with bass drums, violin, keys, electric guitar and an array of voices blending harmonies.
No prerecorded tracks needed to fill out the sound, and Mendes' and Brown's voices are so strong and in tune, it rivals the record. In fact, the only song the artist recut all night was a duet of Michael Jackson's "Man in the Mirror."
5. Shawn Mendes rides scooters … and sometimes falls from them.
Sporting a little road rash at the performance, Mendes admits he had a mishap with a scooter prior to the show.
"Every question is like, OK this is great you guys are doing Crossroads, but what happened to your face?!" Mendes told the crowd, laughing. "It was a very fast — a very, very fast — scooter."
Mendes shrugged off the scrapes and didn't share too many more details about his wild scooter ride. It didn't affect his confidence or his set.
Remember These Country Crossovers? Probably Not