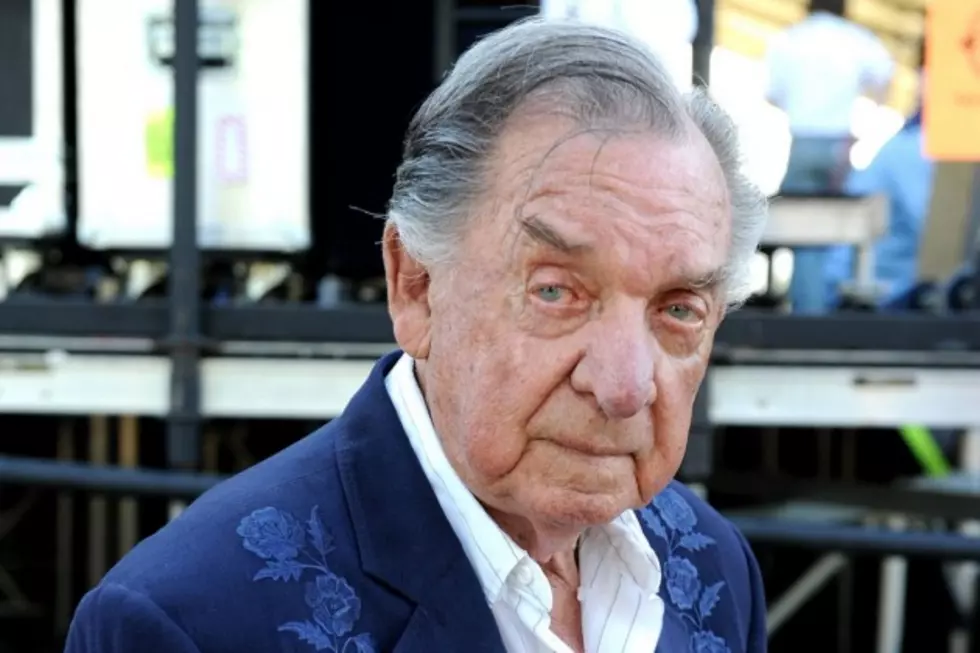 97 Years Ago: Ray Price Is Born in Peach, Texas
Frazer Harrison, Getty Images
Ninety-seven years ago today, on Jan. 12, 1926, Ray Price was born in Peach, Texas. One of the most prolific artists and songwriters in the history of country music, Price enjoyed a successful career that spanned more than 50 years before his death in 2013.
Price, who grew up listening to the likes of Bob Wills and other Western swing artists, originally planned on becoming a veterinarian, but after serving in World War II, he decided to switch to music. After relocating to Nashville, Price signed with Bullet Records while rooming with Hank Williams.
After Williams' death, Price took over his band, the Drifting Cowboys, before forming his own band, the Cherokee Cowboys. The Cherokee Cowboys became the starting ground for some of country's biggest acts, including Willie Nelson, Roger Miller, Johnny Paycheck and others, who all spent time as members of the group in the '50s and '60s.
One of the first country artists to include drums in his music, Price is also credited with popularizing the use of string instruments and the growth of the "country shuffle" that dominated much of the 20th century. His first No. 1 hit, 1956's "Crazy Arms," utilized what became known as the "Ray Price Shuffle."
"I'd played a lot of dances," Price recalled (quote via Rolling Stone). "Sometimes when you're playing a lot, everyone will be dancing right in rhythm, so we'd just stop the music all of a sudden, and you'd hear their feet shuffle. That kind of blew my head out. I went to the drummer and said, 'Can you give me a shuffle beat?' And it just worked out. Everyone picked up on it. I didn't have any idea what it would do, but it turned out. If there's one thing you can't take away from me, I've got that."
Price remained a guiding force in music through the '70s, with a string of hits including "My Shoes Keep Walking Back to You," "City Lights," "The Same Old Me," "Make the World Go Away" and "She Wears My Ring." And the Country Music Hall of Fame member continued to make music throughout the remainder of his life: In 2007, he released Last of the Breed with Nelson and Merle Haggard.
Price was working on a new album, Beauty Is ..., when he died of cancer on Dec. 16, 2013. Price's wife, Janie Price, made sure that the album was released after his death; it became the third-most-downloaded album on Amazon when it debuted on April 15, 2014.
"[When I started meeting his fans,] I started understanding what he had told me," Janie Price tells The Boot. "He said, 'You're going to be the closest thing to me that people are going to have to reach out and touch,' and he said, 'You're going to have to make yourself available for me, so that my fans will have a way to say goodbye to me.' I fully understood what he meant because it was like everyone was hugging me like an old, long-lost friend, and I could feel their love."
Price may not have lived to see the project to fruition, but the country music legend was proud of the work he put into the album.
"I think it's one of the greatest things I've ever recorded," he said. "The whole CD is 12 fantastic, great songs. When it starts, everyone claims you can't stop listening to it. Everyone goes back and starts it over. And that's a good sign."
More Country Stars With January Birthdays:
Country Stars + Americana Artists With January Birthdays