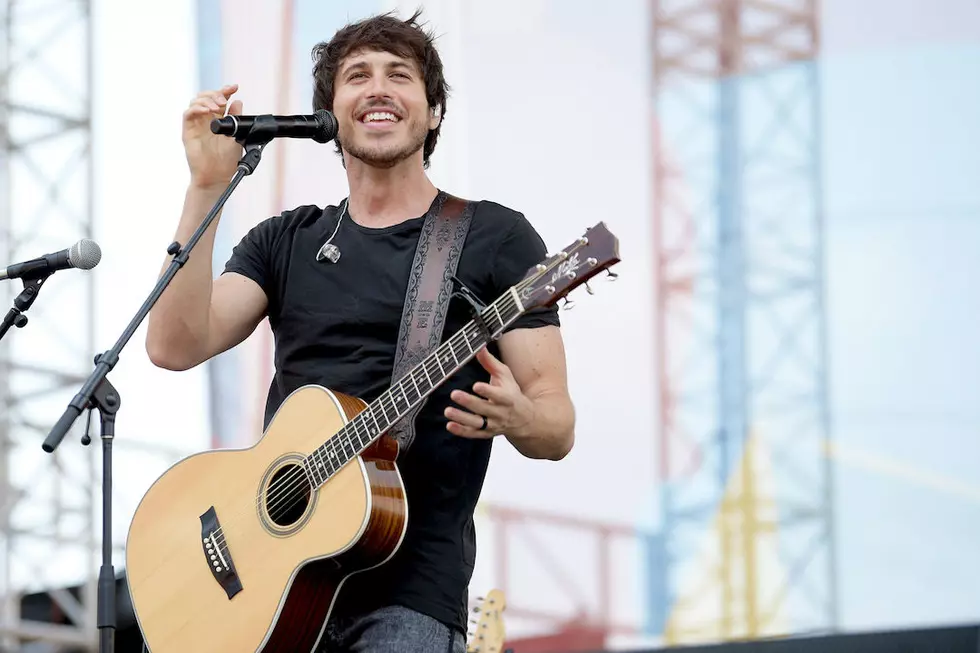 Interview: Morgan Evans Raises a Glass to Memorable Moments on 'Things That We Drink To'
Jason Kempin, Getty Images
Morgan Evans' first stateside studio album, Things That We Drink To, looks back on the eventful past few years in the country singer's life. In that time, Evans moved to Nashville from his home country of Australia, got married to fellow country star Kelsea Ballerini, embarked on his first American tour and released his first U.S. radio single, "Kiss Somebody." So, what would Evans have thought five years ago if he knew that all of these major life events were just around the corner?
"He'd think it was pretty damn cool!" Evans told The Boot with a laugh during a recent interview. "I mean, me right now thinks it's pretty damn cool.
"It's just been an amazing year," he adds. "I've been doing this for so long that I'm in a really great place to really appreciate these moments for what they are, and not take anything for granted."
Evans may be a newcomer to his American audience, but in Australia, he's already an established performer with many years under his belt. Things undoubtedly changed for the singer once he made the move to Nashville, and he worried initially that his fanbase in Australia would resent him for expanding beyond the community in which he started out.
"In a lot of ways, I like to think of Australia as if I came from Oklahoma or whatever, like it's my home state," he explains. "I think when I made the decision to move over here and really commit to being part of the writing community here in Nashville ... and then I got to go back down there, I definitely feel like it could have gone either way."
"There's a lot of living to be done in a couple of years, it turns out." -- Morgan Evans
However, Evans found nothing but hometown pride when he returned to Australia. "It definitely felt like coming home. I was embraced more than ever," he goes on to say. "It's a really warm kind of family feeling whenever I go back there.
"We all just wanna be accepted in our hometown, you know?" Evans adds.
One of the most poignant moments on Things That We Drink To is the album's title track, which speaks to a special relationship Evans had earliest champions, Australian country music executive and manager Rob Potts, who unexpectedly died in a motorcycle accident in October of 2017. For Evans, the song reflects one of the most poignant -- albeit, one of the darkest -- moments in the eventful past few years of his life.
"For me, it's a tribute song to Rob, absolutely," he admits.
An album standout, "Things That We Drink To" is one of the most somber in an otherwise celebratory collection of songs, but Evans says that remembering Potts' life is its own kind of celebration, too.
"When the track listing came together, I just noticed that all these songs were about these kinds of moments that you could raise a glass to, whether it's buying a new home, or meeting a girl, or getting married or remembering someone you loved," Evans notes. In that sense, "Things That We Drink To" is a great representation of the album a whole, even if it may differ tonally from many of the other tracks on the project.
"I think "Things That We Drink To" really represented all the moments that I'm singing about on the album," Evans adds. "That's how it wound up being the album title."
The up-and-comer didn't set out to document the story of his career over the past few years when he began writing the group of songs that became Things That We Drink To; however, as he spent time writing, he began to realize that the best kind of country song is an authentic one.
"The more I wrote songs, in Nashville particularly, with all these people who are the best songwriters in the world, I quickly realized that the best thing I could bring to these songs was my own my own story, my own truth and my own ideas," Evans goes on to say. "There's a lot of living to be done in a couple of years, it turns out."
Kelsea Ballerini + Morgan Evans: Their Love in Pictures