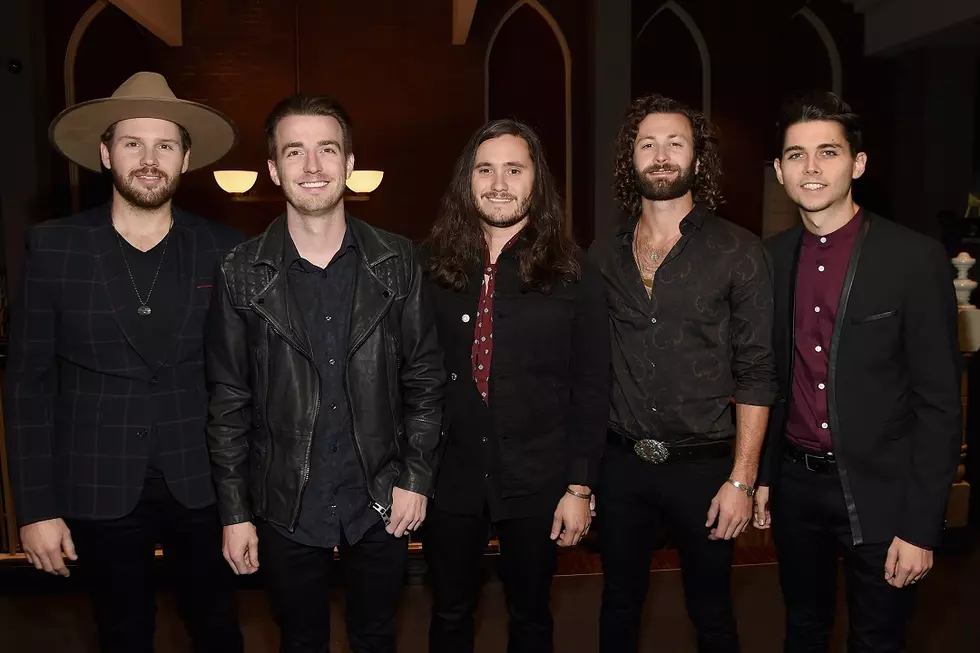 Lanco Discuss 'Eclectic' Debut Album, 'Hallelujah Nights'
Rick Diamond, Getty Images
Lanco are preparing to release their first full-length album, Hallelujah Nights, on Friday (Jan. 19). The 11-track record is, in many ways, a glimpse into the life of the band -- made up of Brandon Lancaster, Chandler Baldwin, Jared Hampton, Tripp Howell and Eric Steedly -- from their first practice together until now.
"I think it is a pretty eclectic album, which is intentional. This album has songs on it that literally have existed since the day we all met each other. And then there's songs on this album that are just a few months old," Lancaster shared with The Boot and other reporters at a recent media event. "I think that was the important thing to us, that this album showcased the entire journey of Lanco up to this moment. There's songs showcasing where we have been, there's songs showcasing where we are, and songs showcasing where we're going."
Each of Lanco's members cites a number of different -- and diverse -- influences, making for a long list of artists who have helped shape the band into what they are. Surprisingly, quite a few of those inspirations made it onto Hallelujah Nights.
"There's "[Greatest] Love Story" that's more stripped back, very organic sound, and then very anthemic songs that people got to know like "Long Live Tonight,"" Lancaster explains. "But then you have songs that blend those worlds together, and songs that we're excited about that, they may be a love story, but they may have a more uptempo rock feel that is anthemic -- but it's anthemic in the sense of falling in love with someone, or realizing your purpose in this life."
"I think with the album, this whole album really showcases the realities of life and celebrating that. And so, I think that you get to hear not having any money, you get to hear questioning your relationships. You get to hear mining a relationship. And the sonic aspect of it matches the lyrics as well," he continues. "There's attitude. There's really rocking songs. There's more stripped-back, vibey songs. We've been working on this album for years, and I think you get to hear our entire musical journey on it."
Meet Lanco + More Artists to Watch
Jay Joyce, whose numerous credits include music from Eric Church, Little Big Town, Keith Urban and more, produced Hallelujah Nights. He got hooked up with the rising band after meeting Lancaster in a rather unconventional way.
"I was actually working at Bridgestone Arena [in Nashville], selling concessions," Lancaster recalls with a laugh. "I was actually working in the middle of a Little Big Town concert; I was at my register and saw this guy walk by, and I knew it was Jay Joyce, or I thought it was. I shut down my register and left my stand and went, 'Hey, Jay,' to see if he turned around. He did turn around, so I knew it was Jay Joyce, and I realized I was stuck now and had to talk to him. I walked up to him and introduced myself to him."
After talking for almost half an hour -- all the while, Lancaster still hadn't returned to his concessions stand -- Joyce gave Lancaster the opportunity of a lifetime.
"We kept talking, and by the end of the conversation, he threw out, 'You know, you should come play me some music sometime.'I got his number and called him a little while after that," Lancaster remembers. "He invited me over, and I played him some songs. He said, 'I want to hear what goes on behind this.' The band came in, and we played him a few songs. We didn't have a record label; we didn't have management. We were really just a band in Nashville. After, like, four songs, he was like, 'All right, all right. I don't know where this is going to go or what's going to come from this, but I have a few weeks off. I'd love to get you guys in here and track as much music as we can.'"
Hallelujah Nights is Lanco's first album, but Joyce didn't take it easy on the band.
"He's taught us the aspect of being human," shares Lancaster. "The important thing about recording music is making it you. You're not a robot. He'll make you stand up; he'll make you play like it's a show.
"On one of the songs, I was recording vocals, and I had the lyrics on a stand. I was reading them, and he couldn't see me ... and he was like, 'What's the deal, man? It sounds like you don't believe it. I'm not buying it.' He walked in and he saw it and goes, 'Are you using lyrics?'  ... He's like, 'How are you going to believe this if you have to read? You don't even know these lyrics well enough to sing them, how are you going to believe them? How are you going to make me believe them?'"
What Other Albums Are Coming Out in 2018?