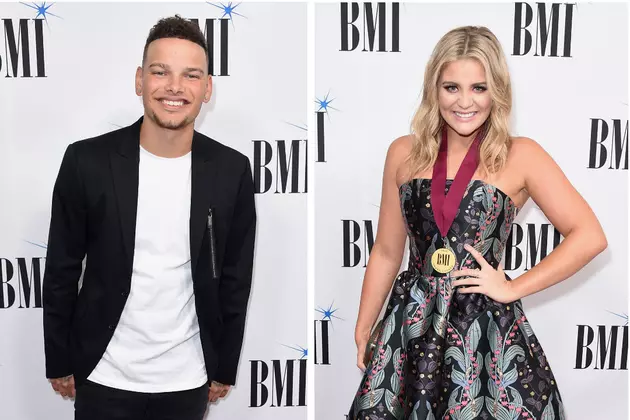 Kane Brown + Lauren Alaina: Friends From Small-Town Georgia to the Top of the Country Charts
Michael Loccisano, Getty Images
Kane Brown and Lauren Alaina may have taken different paths to Nashville, but they started in the same place: Rossville, Ga. Brown and Alaina grew up together, and have been good friends since they were pre-teens, so it makes sense that when it came time to record his single, "What Ifs," he tapped Alaina to chime in on vocals.
"We genuinely want each other to do well," Alaina explained in a recent press conference. "The song was the perfect way for us to showcase what we can do. I love Kane, and it was a natural fit."
Brown adds that he hopes their success in Nashville, independently and as collaborators, can be an inspiration to others who come from small towns: "The story of us going to school together, being in choir together and in Nashville together, and on country radio is a huge part of it," he says. "[I hope] people feel like they can be somebody, even coming from a small town."
Although Alaina found her success as a contestant on American Idol, she is adamant that if she hadn't been on the show, she would still have come to Nashville to pursue her dreams of country stardom. This differentiates her from the bulk of her peers in small-town Georgia, the singer goes on to say.
"We're from a town where no leaves," Alaina says. "You're born and raised there, and you stay there. That was just never my plan. I always knew I was going to be in Nashville. My parents started bringing me here when I was 10 or 11, and I started singing with all the house bands and stuff. Where we're from is only about a two-and-a-half-hour drive, but people don't think you can actually leave."
Counters Brown, "Everybody's trying to get out of there. Everybody that I grew up with, anyway."
Both country stars saw their share of naysayers growing up, and perhaps there's a bit of jealousy behind the sentiment some held that Brown and Alaina's dreams were unattainable.
"They can't really say anything anymore, though," Brown continues with a laugh. "Deep down, they're proud of us."
"Oh yeah, they're proud of us," Alaina adds. "They're very supportive when we go home. I did not feel that they were in high school, but people grow up at some point."
Between them, Alaina and Brown have had an exciting year. Both celebrated their first No. 1 hits -- "Road Less Traveled" for Alaina, "What Ifs" for Brown -- and both received ACM Awards nods in their respective New Vocalist of the Year categories. Through all this success, the pair's friendship has not only remained intact, but strengthened. While they have no concrete plans to collaborate again, Brown and Alaina agree that they'd love to sing another duet soon ... and until then, they continue to ride the success of "What Ifs."
"I was just a feature -- I sang as high as I could on the chorus, basically," Alaina says. "But it's just a good song, and good songs tell their stories in their own way."
Modern Country Music's Female Trailblazers