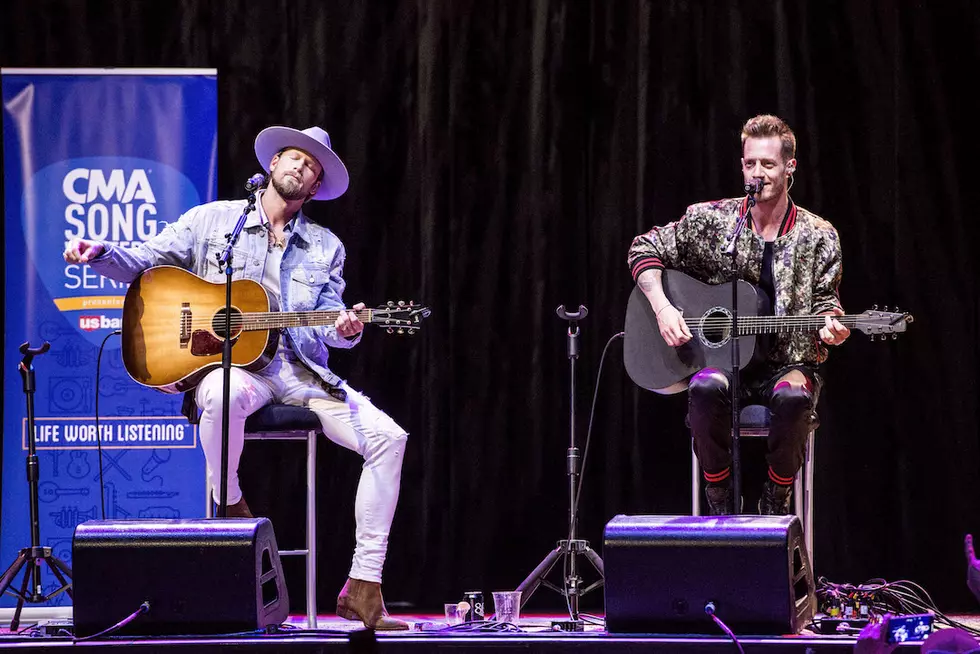 Florida Georgia Line's 'Talk You Out of It' and 5 More New Music Videos You Need to Watch
Timothy Norris, Getty Images
Country music's brightest stars may have been busy at the CMA Awards in Nashville this week, but that doesn't mean they were too busy to share new music videos with their fans! Artists were heating up the chilly weather this week with undeniable jams as well as some sultrier stuff -- one artist even referred to their new track as "baby-making music" -- but there were some more reflective new videos in the mix, too. Read on to learn all about the hottest new music videos out there!
Florida Georgia Line, "Talk You Out of It":
Brian Kelley and Tyler Hubbard of Florida Georgia Line flew south for Los Angeles to shoot the music video for "Talk You Out of It." And the best part? Their wives, Brittney Kelley and Hayley Hubbard, joined their husbands, both having a significant role in the project. Helmed by director Justin Clough, all the filming took place in a studio--a first for FGL. On set, flurries of snowflakes dropped around the duo, but nothing stayed frosty for long with the video's super sensual tone. "'Talk You Out of It' has a very different feel for us … It's the baby-making song on the album," laughs Tyler Hubbard. "But really, BK and I are always challenging ourselves creatively and knew that we had to record it when we first heard it." The set evolved from snowflakes to steaming bathtubs and cascading flowers as the two couples grew more intimate with one another. This music video was more about the ambience than a storyline, and it was executed beautifully and intimately. --CV
Kelsea Ballerini and the Chainsmokers, "This Feeling":
EDM pair The Chainsmokers (Alex Pall and Drew Taggart) recently teamed up with Kelsea Ballerini for "This Feeling," and they just released the accompanying music video. "This Feeling" was directed by Similar But Different and filmed at Milestone MX motocross track in Riverside, Calif.
"The theme for this video is [about] these three motocross riders that all come to this race with something different to prove," Taggart explains. According to Ballerini's tweet the three are: "The show pony that hides his feelings, the female in the male dominated race, and the underdog." She points out the video highlights "real emotions and insecurities" in us all. Pall--who plays the overconfident one--adds, "I think we can all relate to the idea of wanting to be with someone and the people around you, your friends or whatever, not really wanting you to be with that person and just ignoring them and following your heart and deciding to be with that person anyways." --CV
Margo Price, "All American Made":
Margo Price's "All American Made" music video was filmed in eight cities across five states in nine days by Kimberly Stuckwisch and Carlos Lopez Estrada of production company Little Ugly. All the people portrayed are the real-life men and women experiencing the struggles and successes of everyday life.
According to a press release, individuals from these communities are highlighted: Leona Tate, one of the first children to integrate into white schools in New Orleans, who now heads her own foundation in support of inner-city youths. Sherrell Street, an Indiana farmer dealing with the recent loss of his wife. The Immigrant & Refugee Rights Coalition from Price's adopted hometown of Nashville, Tenn. Burnell Cotlon from the Lower 9th Ward in Louisiana, who put his life savings into revitalizing the neighborhood after Hurricane Katrina. Stuckwisch's mother is also featured in the clip as she digs through rubble of their burned-down family home in Southern Indiana (they lost everything due to lack of insurance). There's a lot of thoughtful and important messages in this music video, and you can read more about them here. --CV
Kane Brown, "Baby Come Back to Me":
Kane Brown takes a dramatic trip to the dark side in the video for his latest single "Baby Come Back to Me." Brown and his band appear in a dimly-lit warehouse, illuminated only by an eerie pulse of neon in the background. The blues-driven tune finds a heart-pounding groove as Brown delivers it in throwback style, using a corded mike and all of the emotion that makes Brown's music ring so true. --LS
Rodney Atkins, "Caught Up in the Country":
Rodney Atkins' foot-stopping new single  "Caught up in the Country" comes to life from shore to shore in the music video, shot across the country in locations as diverse as the people who appear in the video, including Atkins' wife and musical partner Rose Falcon Atkins as well as the legendary Fisk University vocal group.
"This song talks about the spirit of being 'country' which, to me, really means being outdoors," Atkins says in a press release. "I always point to that saying about how some people go to church and think about fishing, while others go fishing and think about God... being outside with your family, looking at the stars in the sky, driving down a back road – and we got to capture all of that in this video." --LS
Toby Keith, "Should've Been a Cowboy (Live XXV)":
Toby Keith throws it back for his fans in the video for the re-release of his 1993 hit debut, "Should've Been a Cowboy." The video for the Live XXV Edition of the song chronicles Keith's extensive tour route over the last 25 years since the song's release, including his USO tour stops. Keith has participated in more than 285 events, that reached nearly 256,000 troops and military families at forward operating bases across the world, from Bosnia, to Iraq, to Afghanistan and back home to the U.S. -- LS