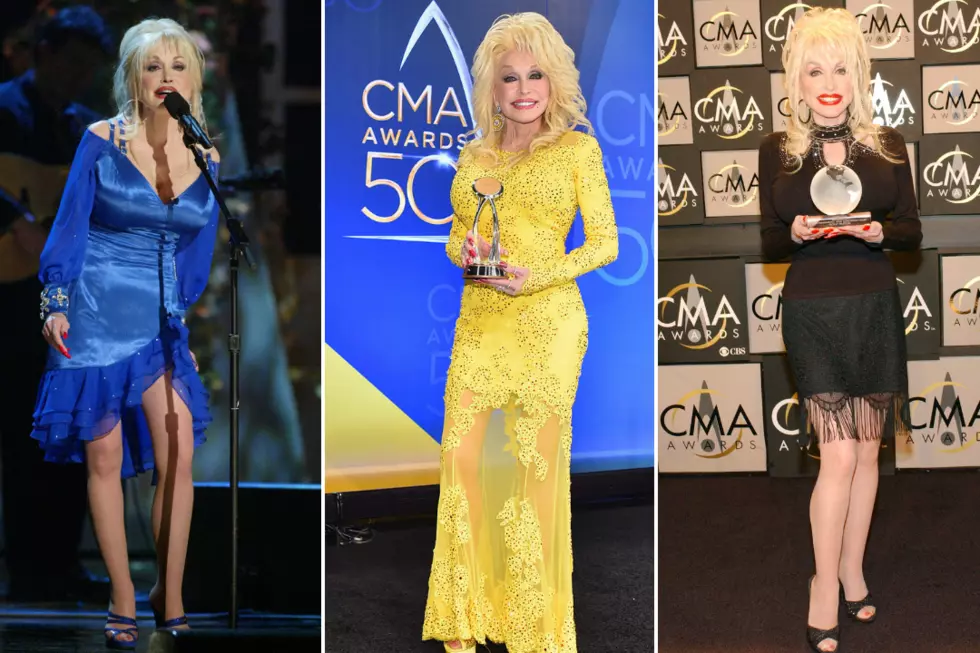 Dolly Parton at the CMA Awards: See Her Glammed-Up Looks Through the Years
Getty Images (3)
Dolly Parton is a 44-time CMA Awards nominee, and a nine-time CMA Awards winner. She's also a one-time host of the annual event -- make that a soon-to-be two-time host, as she'll be co-hosting the 2019 CMA Awards with Carrie Underwood and Reba McEntire on Nov. 13.
Parton was first nominated at the CMA Awards in 1968. That year, she was up for Female Vocalist of the Year and Vocal Group of the Year, with Porter Wagoner. The then-country newcomer lost out on the former trophy, but she and Wagoner won the latter one. It was their first of three CMA Awards wins together, the other two coming in the Vocal Duo of the Year category in 1970 and 1971 (they were also nominated for Vocal Group of the Year in 1969).
Parton is a back-to-back CMA Awards Female Vocalist of the Year winner (1975 and 1976), and a former Entertainer of the Year winner (1978). Her other three CMA trophies are in the Vocal Event of the Year (or, as its now known, Musical Event of the Year) category: in 1988, for her Trio project with Emmylou Harris and Linda Ronstadt; in 1996, for "I Will Always Love You" with Vince Gill; and in 2006, for "When I Get Where I'm Going" with Brad Paisley.
From her big hair to her bright makeup, Parton has always favored bold, exaggerated looks -- it's part of her persona, after all. Her CMA Awards outfit choices, though, have changed with the trends. Keep reading to see a few of them from throughout her more than 50 years in country music.
Dolly Parton's Best Glammed-Up CMA Awards Looks: