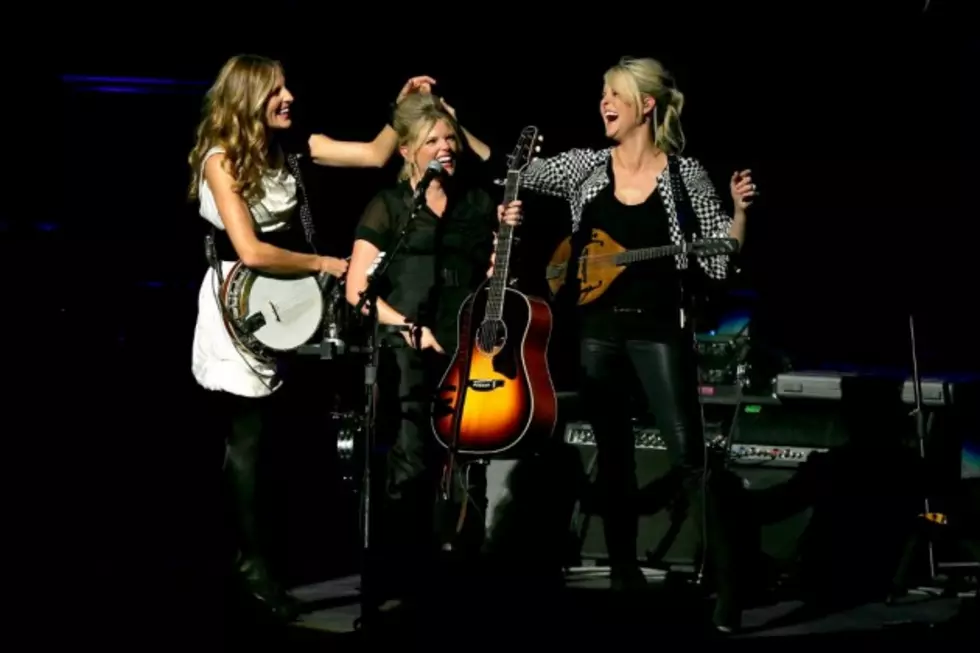 The Chicks' 'Wide Open Spaces' Tracks, Ranked
Lisa Blumenfeld, Getty Images
The Chicks' major-label debut album, Wide Open Spaces, turns 25 on Jan. 27, 2023. Formed in 1989 by Laura Lynch, Robin Lynn Macy and sisters Martie and Emily Erwin (these days, they're Martie Maguire and Emily Strayer), the band known as the Dixie Chicks until the summer of 2020 released three albums as an independent band, in 1990, 1992 and 1993, before signing a developmental deal with Sony Music Nashville, then an official record deal with Sony's newly revived Monument Records imprint.
In October of 1997, the Chicks released "I Can Love You Better" as the first single from Wide Open Spaces; the song reached the Top 10 on the country charts (No. 7). The album's following three singles -- "There's Your Trouble," "Wide Open Spaces" and "You Were Mine" -- all reached No. 1, while the disc's fifth and final single, "Tonight the Heartache's on Me," also earned a Top 10 spot (No. 6).
Wide Open Spaces has sold more than 12 million copies, setting the record for the best-selling duo or group album in country music history (in 1998, the year of the album's release, the Chicks sold more CDs than all other country music groups combined). They also earned two Grammys trophies thanks to the project.
So, how do the songs on Wide Open Spaces compare to each other? Below, The Boot ranks each of its 12 tracks:
12

"Loving Arms" is the Chicks' take on a frequently covered song. Kris Kristofferson and Rita Coolidge first recorded this tune, and it has since been covered by everyone from Etta James to Elvis Presley. The Chicks' version adds their signature harmonies to the lovesick story of wanting to be back in someone's "loving arms."

11

"Am I the Only One (Who's Ever Felt This Way)"

This mid-tempo song opens simply with a guitar and a voice, almost angrily, declaring, "There is no good reason I should have to be so alone." The rest of the song is a balance between frustration and empathy, with a driving beat stopping things from ever getting too sad; you can almost see Natalie Maines laughing in frustration as she sings, "God help me, am I the only one who's ever felt this way?"

10

"Never Say Die" is an optimistically (and purposefully) naive love song. Another mid-tempo song balanced somewhere between ballad and waltz, it has Maines' narrator lying in the dark, declaring that "lovers like you and me will never say die."

9

"I'll Take Care of You" is a slow, sweet ballad, driven by acoustic and steel guitars, punctuated by some high notes by Maines. It's easy to imagine this song played as the first dance at a wedding, especially with commitment-focused lines including "When the laughter dies away / Then I'll take care of you."

8

"Tonight the Heartache's on Me"

The fifth and final single from Wide Open Spaces opens simply with a voice declaring, "You could have heard a pin drop when they walked through the door." This classic drinking song tells the story of reckoning with an old flame's new love, culminating in the narrator singing, "Bartender, pour the wine / 'Cause the hurtin's all mine / Tonight, the heartache's on me." It peaked at No. 6 on the Billboard Hot Country Songs chart.

7

"Once You've Loved Somebody"

"Once You've Loved Somebody" is a straight-down-the-middle ballad. The chorus features that particular power of the Chicks in harmony, especially potent when they're singing about heartbreak. "Once you've loved somebody," they sing, moving on "ain't that easy to do."

6

You know you've reached a certain level of success when Sesame Street parodies you. The Chicks appeared on the show to perform a kid-friend version of this song (called "No Letter Better Than B"), which is the opening track to Wide Open Spaces, the album's first single and the song that introduced a generation to the Chicks.

5

"Give It Up or Let Me Go"

Wide Open Spaces closes with a barn-burner, "Give It Up or Let Me Go." With fiddle and guitar solos in equal parts, we get to hear Maines urging her bandmates on by shouting, "Emily needs to find that thing!" and "Bring it up, Martie!" throughout the Bonnie Raitt cover. Good luck making it through this one without tapping your feet.

4

Maines eases into "Let 'Er Rip" slowly, but after the first several lines, a voice in the background shouts, "One, two, three!" and from there, the song is off. "Let 'Er Rip" is just under three minutes of blues-y, rock-y, honky-tonk fun. Not an official single, "Let 'Er Rip" still hit No. 64 on the U.S. country charts.

3

"There's Your Trouble" was the second single off Wide Open Spaces, and one of its most decorated. Not only did it give the Chicks their first No. 1 hit, it also earned the group a Grammys trophy for Best Country Performance By a Duo or Group With Vocal. The lyrics are rapid-fire, with lines including "Should have been different, but / It wasn't different, was it? / Same old story, dear John, and so long ..." backed by plucky guitars and banjos.

2

"You Were Mine" is one of the Chicks' best tearjerkers. The unforgettable chorus melody ("Sometimes I wake up crying at night / And sometimes I scream out your name") helped the single spend two weeks at the top of the charts (and make the song a crossover pop hit). While the Chicks often use songs written by others, this one was written by two of the three members, Maguire and Strayer.

1

What else could we put at the top of this list? Not only is "Wide Open Spaces" the album's title track, but it is arguably the best-known song by the Chicks. Need proof? Not only did this single spend four weeks topping the country charts, it was also No. 259 on the RIAA's Songs of the Century list and No. 22 on CMT's 100 Greatest Songs in Country Music list. Now, if you need us, we'll be humming the chorus for the rest of the day.