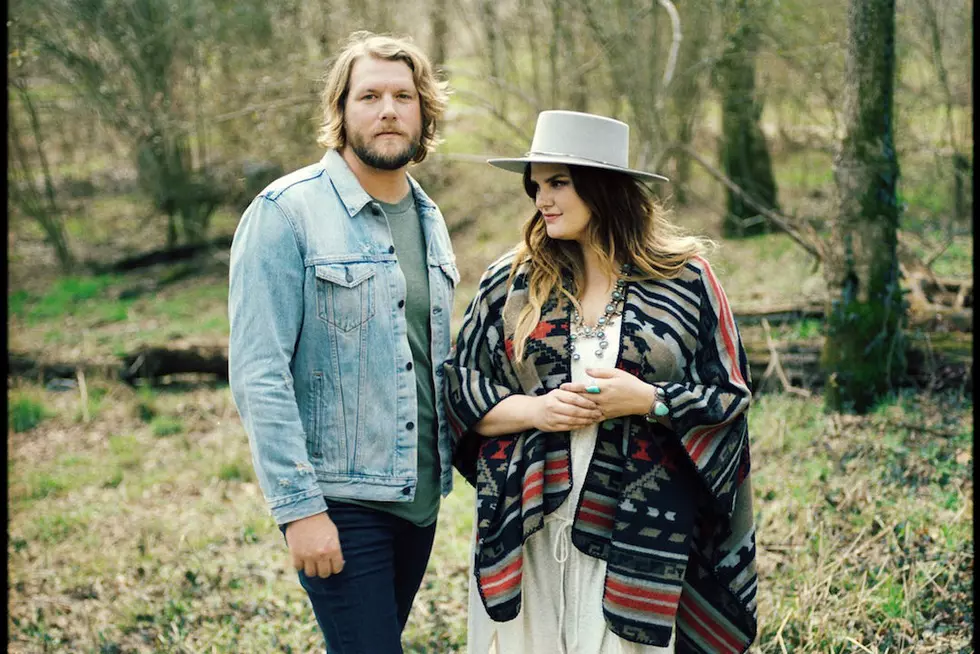 Interview: Carolina Story's 'Lay Your Head Down' Looks Back on a Decade of Music, Life Together
Laura Partain, All Eyes Media
Although Carolina Story's Ben and Emily Roberts released their debut album, Lay Your Head Down, in July, the two have been making music together for a decade. In a recent interview with The Boot, the duo explained that the long road that led to these songs lent the project a special theme, albeit an unintentional one.
"We've been doing this for 10 years," Emily Roberts explains. "These are our perseverance songs -- the songs that we had to write, and then reaffirm, every night when we sang them, just to keep them going."
The album tells the story of Carolina Story's last decade as musical and life partners, and all of the ups and downs that came with reconciling their careers with their personal lives. The duo wrote "Lonely Without You," the project's single, about five years ago, but they still recall the exact set of circumstances that led to its creation.
"We had actually just been to the East Nashville Beer Festival, and we'd just had a really good day," Ben Roberts recalls. "One of our dear friends had recently gotten us into Hank Williams Sr., and we loved his music -- still do, but we were in an obsessive phase about that. Those lonesome songs, those sad melodies, were just bouncing around in our heads, and we came home from the beer festival ... and wrote it right there in the living room that afternoon."
As much as the song was inspired by specific details, it also tells a more general story of the pair's bond. "Ben would probably give you a more arty, philosophical description of that song, but I'm more simple-minded, so I imagine that song literally," Emily adds with a laugh. "I would be alone and lonely without him. Whether it's as a husband or a co-worker, I need this unit to work, and I need him to be there."
Other songs on Lay Your Head Down, such as the closing track, "Let Me Rock Let Me Roll," speak to various aspects of the duo's journey over the years. "[It's about] that journey together," Ben goes on to say of "Let Me Rock ...". "The chorus is 'The best part of my whole day is singing songs with you ...' Though all the miles logged and all the nights we played to no one, to empty rooms, it's saying, 'I've got your back through it all,' and that we'll keep going."
Changes in the Roberts' personal lives brought new meanings to many of the songs Carolina Story had previously written. "Like "Your Children's Children," for example, was a song we wrote before having children," Emily relates. "That's one of those underlying desires you always have, and then when you do have [children], that song means a whole hell of a lot more. There's something inside you, even as a songwriter, you know about it before it happens ... Things turn to gold eventually."
Interjects Ben, "And those things that turn to gold, they don't stay either. There's an ebb and a flow."
That ebb and flow meant that, after their children were born, Carolina Story turned their attention to being parents, and pulled off the road for a little while. Ben got a job as a substitute teacher and began supplementing his teaching income by working in a bakery. "We were just sort of burned out and ready to give up," he admits.
"My kids have brought a joy into our life that was lacking and I didn't know," Ben goes on to say. "It made me more empathetic towards people in general. It just makes you give more of a damn. That process goes into your songwriting."
The 10 years of writing, traveling and taking a break all served to season Carolina Story as musicians before they headed into the studio in 2017 to record Lay Your Head Down. "We actually scrapped all our previous recordings, because it's taken us almost 10 years to hone our sound, and we were always sort of teetering around that," Ben explains. "We wanted to redo some songs we had previously recorded and give them new life."
The recording process felt like a bookend. That's why, just a few months after releasing their debut, Carolina Story are already impatient to get back in the studio with some new material.
"We just have more to say," Ben adds. "A new album is not necessarily in the works right now, but the gears are turning and the vision is beginning to take shape."
The duo hints that their next project will look more towards the outside world, the future and the country that surrounds them. "It'll definitely speak more to the current times," Ben says.
Adds Emily, "Carolina Story is always going to be personal, and I feel like every song is about us. The next record is still going to be personal. But I feel like what's going on in the world is personal. It's a part of our homes."
What Is Americana? Its Artists Define the Genre