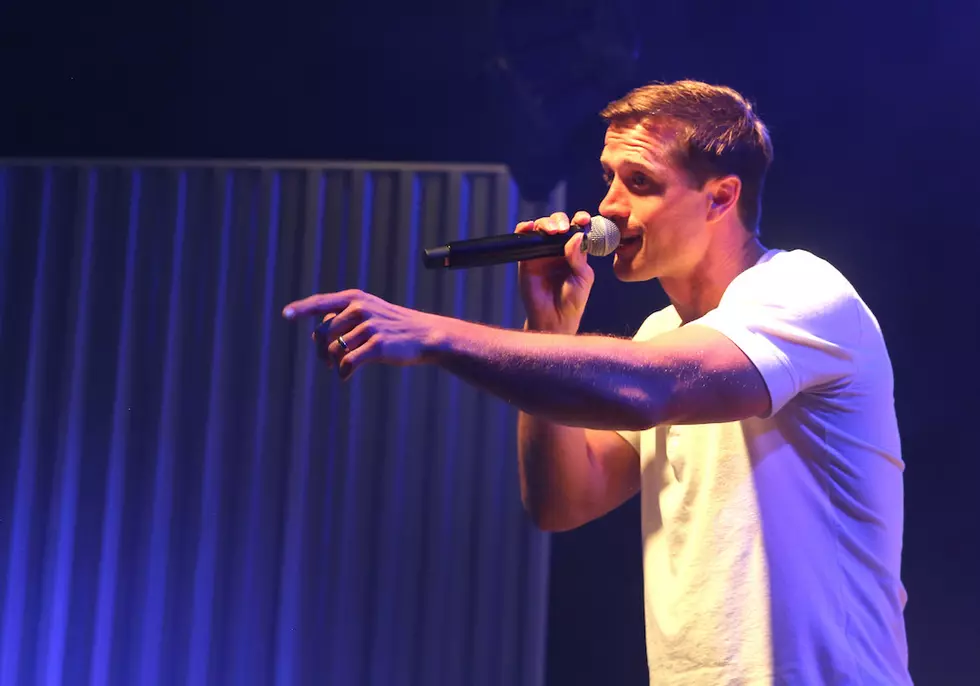 Interview: Walker Hayes Learned About Himself (and His Musical Taste) Writing '90's Country'
Anna Webber, Getty Images
Proving that even those who can't remember the decade are susceptible to '90s nostalgia, Walker Hayes' sons are jealous of his retro flight shoes. "I almost can't let them see the shoes when I bring them in," the country star told The Boot in a recent interview. "Because they'll be like, 'Why can't we have shoes like that?'"
For the singer, pop culture's return to the highlights of both music and fashion of the '90s is a welcome throwback: Hayes says he wouldn't mind seeing slap bracelets and calculator watches make a comeback, and he still rocks his starter jacket ("It's blue, and it's got white stripes and the actual metal zipper," he explains with a laugh). That nostalgia is the driving force behind his latest single, "90's Country," which references a whopping 22 of the decade's most beloved country tracks.
Hayes says the song began to come to life two years ago, during a writing session with LYRX (Gabby Mooney, who is the sister of Shay Mooney of Dan + Shay), "At that point, it was just a poem," he recalls. "It didn't have the melody it does now, or the beat. But at that point, I knew I had something special." Hayes initially had planned to include the song on his 2017 studio album, Boom; however, the song wasn't finished in time for that album's release.
"But I always knew at some point I wanted to go to radio with it, and I wanted to finish it for that purpose," Hayes goes on to say of "90's Country." "A lot of my music, I feel like the fans and listeners appreciate it, but I know it's not radio friendly. You know, radio does one thing and I do another. To make those two things mingle, it has to be a special song, and I knew when I started that ["90's Country"] could be one of those."
Then, in June, Hayes and his wife Laney's seventh child, a daughter named Oakleigh, was born and died on the same day. The country star says that tragedy, and the weeks and months of grief that have followed, further shaped his priorities and informed the kind of music he wanted to make next.
"That really was a pivotal point in my career in general. Waking up from that, it just changed my priorities, to say the least," Hayes admits. "As I began to get back on the road, I began to be very focused on, 'Hey, it's time for this song.'"
Hayes was ready to explore some fresh material, and in the wake of Oakleigh's death, it wasn't the time to put out a song that would be too serious. "The team agreed, [we needed] something light," he adds. "You can't go with something heavy this fall."
So, Hayes began refining "90's Country" with Nashville songwriting heavyweight Shane McAnally -- and quickly discovered that there were far too many '90s classics to pack into one song.
"I wanna go up to so many artists and say, 'I'm sorry,'" Hayes goes on to say. "I mean, Travis Tritt? I will die disappointed that his songs aren't in there. And Jo Dee Messina."
Still, he's proud of the finished product, because the song does more than rattle off the decade's greatest hits: "It's more than a list to me," Hayes says. "It's easy to just spit out a rap of '90s country songs. What was difficult was putting everything in the right place, and adding in a few lines to remind [the listener] that this song is about a real person, singing about the stuff they listened to."
In fact, as Hayes debated with his co-writers over which references should make their way into the song, he began to notice that everybody who listened to country music in the '90s has a slightly different picture of which songs made the largest impact. "Me and Shane would kind of compare notes, saying, 'Which songs were larger in your life? Where y'all are from?'" he recalls. "I learned a lot about myself writing this song."
While Hayes knows that not everything he writes will be a good fit for country radio, he clarifies that that doesn't mean the platform is unkind or unenthusiastic towards him. With songs like "90's Country," the singer says, he's excited to access a broader fanbase.
"It's a large platform for a guy like me, who writes acoustic things about his friend named Craig," he says. "This song is fun, and I'm proud of it. I hope it takes this whole thing to a new level. I hope it allows me a larger fanbase, and that I can share with them some things that are on my heart on a deeper level."
Top 10 Country Artists of the 1990s