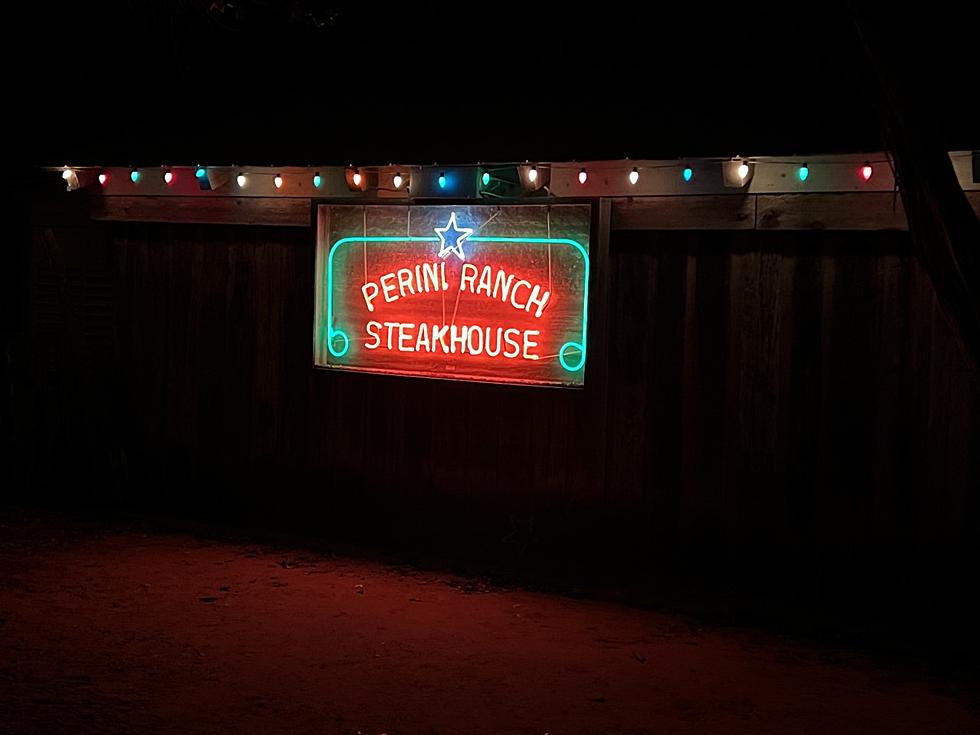 Perini Ranch, A Great Texas Steakhouse, Celebrates 40 Years In Business
Chad Hasty, KFYO.com
From West Texas to the White House, the name Perini Ranch is well known among those who enjoy a good steak or tenderloin.
40 years ago, co-owner Tom Perini opened Perini Ranch Steakhouse in Buffalo Gap, Texas. If you aren't sure where the small town of Buffalo Gap is located just 15 minutes outside of Abilene. For those in Lubbock, it's about a 2 1/2 hour drive. From Dallas? 3 hours. And yes, it is worth the trip.
As the Dallas Morning News reported, travelers from all over stop at Perini Ranch. That includes celebrities like Billy Bob Thornton, Robert Duvall, Robert Earl King, and Reba McEntire. But most days, it's regular people walking through the doors to eat a great meal. According to the Dallas Morning News, 1995 was a pivotal year for the steakhouse as things, big things, began falling into place.
The pivotal year was 1995, when three things happened: The James Beard Foundation invited Tom to cook at their lauded house in New York City, which brought fine-dining-level restaurant attention to the smalltown steakhouse. Then, Texas Gov. George W. Bush asked Tom to cater an event, which initiated a long relationship with the governor-turned-president. Finally, The New York Times named Perini's peppery tenderloin one of the best mail-order holiday gifts of the year.

Tom calls the Times honor a "fluke." It was an accident, really. He mailed about 20 tenderloins to publications all around the United States, desperate to drum up interest for his restaurant, now 12 years old and relatively unknown. The Times was running a contest, unbeknownst to Tom, and Perini Ranch's tenderloin was picked as a winner just before Christmastime.
By the way, one of Perini Ranch's burgers was featured on the Today Show and their tenderloin was once named a favorite thing by Oprah, and if Oprah likes you, most likely you are going to have a good year or two or more, and Perini Ranch has.
My first trip to Perini Ranch was just after Christmas. I had actually planned our travel from Houston back to Lubbock around stopping for dinner at Perini Ranch. My only disappointment? We got in later than I wanted and they were out of the tenderloin. Guess I'll just have to go back.
Instead, I got the ribeye and it was fantastic. Perfectly cooked and seasoned with their own rub. And while Perini Ranch has been around for 40 years and is a West Texas Institution, you don't have to get all dressed up the go. In fact, jeans are just fine.
And if you are traveling to Perini Ranch, you can even stay on the ranch. Not a bad deal. Just book in advance.
Happy 40th Anniversary to Tom and Lisa and Perini Ranch. Here's to many more great years. I'm looking forward to my next visit.
Check out Perini Ranch Steakhouse online.
A Look Inside Lubbock's New Dave & Buster's
70 Lubbock-Area Food Trucks You Need to Try
Here's a list of all the food trucks in alphabetical order so it is easy for you to find here in Lubbock. Support local!
40 Lubbock Restaurants With Great Daily Specials