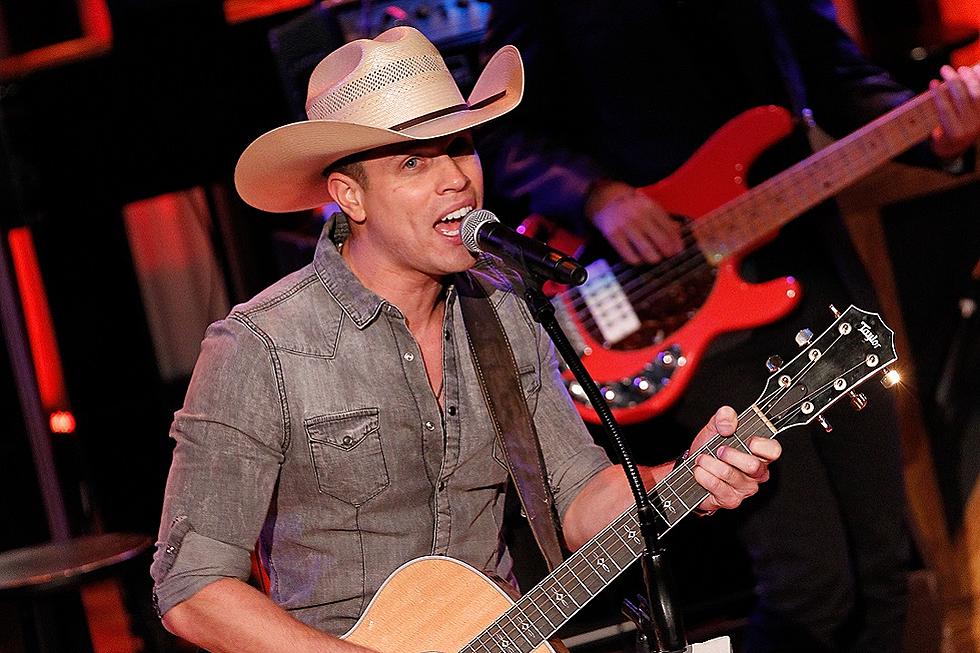 Dustin Lynch Says He's Learned to Be More Authentic and Patient in His Career
Terry Wyatt, Getty Images
Dustin Lynch's Current Mood, released earlier this month, is the culmination of three years of hard work, tenacity and patience. The singer says the 13-track record is one that he wouldn't have been able to make before now.
"I've learned that it pays to be authentic," Lynch tells The Boot. "It's a lot more fun when I can be me. That's what I've always tried to do, and I've just gotten better at trusting what I am. I think that's why this album's a little more honest, a little more open; it's a lot sexier, but it comes honest."
After opening for artists such as Luke Bryan, Keith Urban and Florida Georgia Line, Lynch has learned the importance of creating an album that will translate well in concert. The opportunity to perform the songs on Current Mood live became the impetus of the record.
"I constantly just long for that feeling of being up onstage, feeling the buzz right before we hit the stage, and then the connection that happens with a crowd, whenever they're into it and feeling the music, is what I live for," Lynch explains. "Over the past few years, I've gotten better at living in the moment. I've learned that that's important, too, in enjoying the success I'm having."
The Tennessee native acknowledges that he was too afraid to fully appreciate some of his earlier successes, including No. 1 hits such as "Hell of a Night," "Mind Reader" and "Seein' Red."
"I'd say three years ago, I was scared to death, because there was no guarantee. I've wanted it so bad, and I didn't know if it was going to happen. Now, I'm better at enjoying it, and it's comfortable," Lynch concedes. "The reason I was scared to death is, there's a lot of people that depend on my success for their living. All my band and crew all have families, so that's heavy stuff. So now we've been able to repeat that, and it's like, 'Okay. This feels good.'"
Lynch's role as an opening act has allowed him to perform in some of the biggest venues in the country. But instead of simply being grateful for those experiences, the opportunities have fueled Lynch to fill those same seats with fans who are there to see him as the headliner.
"There's something powerful about watching an amphitheater or arena or stadium full of people sing, dance and feel something," Lynch says. "That's what I haven't accomplished yet. I've had the privilege of touring with Luke Bryan for a couple years, and seeing 60,000 people shake their butts to "Country Girl (Shake It for Me)," but more importantly see 60,000 people remember someone they've lost to "Drink a Beer," and so that would be something that I would love to accomplish, that connection with that many people at once."
Lynch's experiences have caused him to reflect on how he's evolved and changed since his debut single, "Cowboys and Angels," was released. Perhaps surprisingly, he says there are a number of things he'd do differently if he could do it all over again.
"I got my start not knowing a person in this town, so I've knocked on a lot of doors; none of this was handed to me. What would I change? I would be more patient," Lynch says. "My manager still preaches at me, 'Dude, be patient.' Everyone wants everything to happen fast. I would trust my gut instincts, and I'd be more patient and maybe not jump so quickly at conclusions or things that are off."
Lynch has certainly experienced several career highlights so far, but some of his favorite times are the ones he imagines in his mind.
"My best moment is visualizing what I want to happen and that coming true," Lynch says. "The big moment for me is whenever whatever inspiration hits me and dream hits me, that I visualize it, because in the past, what I visualize constantly has happened."
Lynch will headline his own Ride or Die Tour this fall, with Michael Ray, Ryan Hurd and Lanco serving as his opening acts. A list of all of his upcoming shows is available on his website.
Rising Stars Share Lessons Learned as Opening Acts