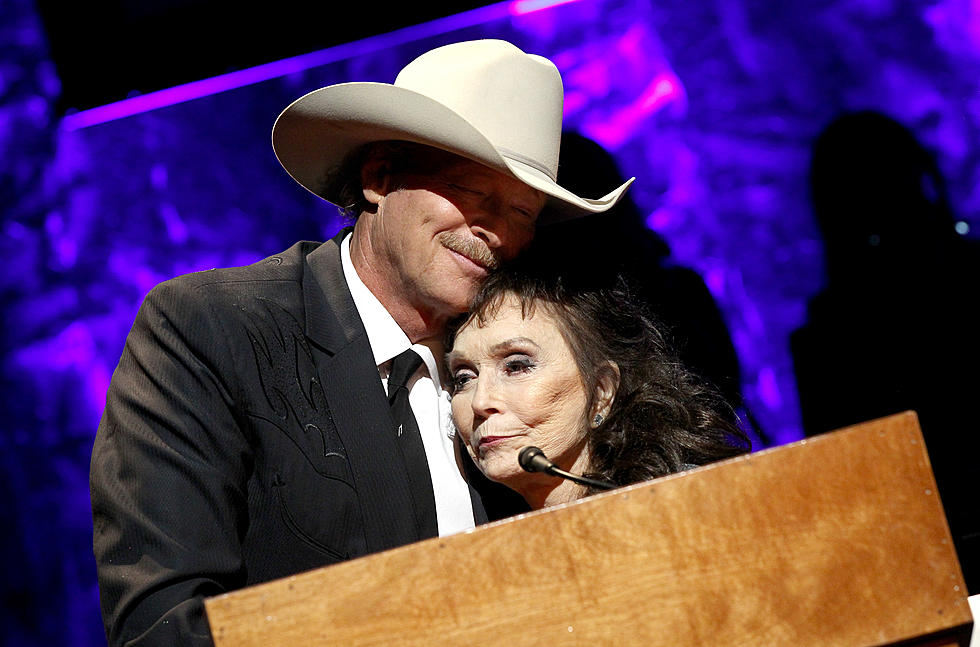 9 Special Moments From the 2017 Country Music Hall of Fame Induction Ceremony [PICTURES]
Getty Images
Alan Jackson, Don Schlitz and Jerry Reed are the newest members of the Country Music Hall of Fame! The three men were inducted into the Hall of Fame during a special ceremony held Sunday night (Oct. 22) at the Hall of Fame's CMA Theater.
The star-studded 2017 Country Music Hall of Fame Medallion Ceremony included touching tributes, special performances and heartwarming speeches. For those who were unable to attend the event, the following are some of the most special moments you missed.
Loretta Lynn Makes an Appearance
Loretta Lynn made her first major appearance outside of her ranch since her May stroke in order to induct Jackson into the Hall of Fame. Inductees are allowed to suggest a few options for which member of the Country Music Hall of Fame they'd like to perform their induction -- but Jackson only named 85-year-old Lynn.
Jackson's request seemed to be a tough one to grant, given that Lynn has largely stayed out of the public eye in the months since her stroke, but she rallied, and surprised everyone by walking out onstage, flanked by George Strait, who performed at the Medallion Ceremony.
"The first time I ever saw Alan, he looked like a scared little boy," Lynn recalled during her speech. "He was backstage going through his songs, and I remember, I looked at him, and I said, 'You're going to be one of the greatest singers in country music.' He hasn't let me down."
Don Schlitz Gives a Grateful Speech
Schlitz is the mastermind behind some of the biggest hits in country music -- 50 Top 10 hits and 24 Top 10 songs, to be exact -- including "The Gambler," "When You Say Nothing at All," "Forever and Ever, Amen" and "I Take My Chances," among others. Instead of waxing poetic about how hard he's worked throughout the past 40 years, Schlitz used his time at the podium to thank everyone who ever had an impact on his career, including his family, fellow songwriters, music lovers and friends.
"I've lived for 40 years within the parentheses. It's been a safe place to pursue the process of making up songs that my collaborators and I wanted to hear. I have rarely, if ever, been the smartest or most talented, or even the hardest working, person in the room," Schlitz shared. "This is an honor beyond my comprehension. I remain overwhelmed, and humbled, and embarrassed, but I'm proud. I'm proud to represent."
Lee Ann Womack Sings "Here in the Real World"
We all know Womack has vocal abilities that are basically unmatched, and that she can easily sing -- and sing well -- anything she pleases. But her take on Jackson's first hit, with her own artistic flair, was unforgettable. Among a night of jaw-dropping performances, Womack's delivery of "Here in the Real World" will go down in history as one of the best.
Vince Gill and Aloe Blacc Team Up
Gill and Blacc treated Medallion Ceremony attendees to "The Gambler." Schlitz wrote the song, which was cut by several other artists before Kenny Rogers recorded it and made it one of the biggest hits of his career. But hip-hop and pop star Blacc and country icon Gill's riff on the classic might be our new favorite version.
Three CGPs Laud Jerry Reed ...
Steve Wariner, Tommy Emmanuel and John Knowles -- the only three living musicians who were dubbed "Certified Guitar Players" (CPGs) by the late Chet Atkins, performed Reed's "The Claw" in his honor. Watching three of undoubtedly the greatest guitar players of all time share the stage was certainly a sight -- and sound -- to behold.
... And Jamey Johnson Does, Too
Johnson -- who also performed at last year's Hall of Fame induction ceremony -- is quite possibly one of the biggest Reed fans there is, so it was only logical that he return to the Medallion Ceremony this year to perform "East Bound and Down." A vocal stylist as much as he is a singer, Johnson certainly made Reed, and his family, proud.
Jackson Gives a Heartfelt, Funny Speech
Most people think of Jackson as quiet and reserved, if not downright shy, but his Medallion Ceremony speech was, surprisingly, the longest of the night, and humorously poked fun at both himself and others while remaining poignant and respectful of being bestowed the highest honor in country music.
"I wrote about what I knew," Jackson said, referring to his numerous self-penned hits, including "Drive (for Daddy Gene)." "It was cars. My daddy was a mechanic; I grew up around cars. That's all I cared about. That's the reason I came to Nashville to be a singer: I loved cars, and I couldn't really buy any. I didn't go to college -- I went more than three semesters -- so I didn't have much going on, and I didn't see much of a future or any direction that would help me buy a lot of cars. Being a singing star was the only shot I had."
He added, "For me to say I'm honored sounds like the standard old response, but for a man who loves country music, there is no higher honor. This is the mountaintop."
The King of Country Covers "Remember When"
Having George Strait sing anything, anywhere, let along in the Country Music Hall of Fame, at the annual Medallion Ceremony, is something to remember. His take on this Jackson hit sounded like the song might have been written by Strait instead. He's a master at performing, as he made clear on Sunday night.
Mary Chapin Carpenter Stuns With "When You Say Nothing at All"
One note out of Carpenter's mouth and we were reminded how much we miss hearing her on the radio. Her stripped-down version of the Schlitz-penned "When You Say Nothing at All," in her low register, trying to sound not like Keith Whitley or Alison Krauss, was truly unforgettable. She's a classic for a reason.
Every Country Music Hall of Fame Inductee, Ever